News, events, and Information
Welcome, parents! Here you will find important information about the services we provide at our schools. We aim to help you stay connected to your child's educational experience at Cloudcroft schools.
If you would like to speak with your child's teacher(s), please call the appropriate school office to make an appointment.
Free Sports Physicals
We are offering the community a full day of sports physicals at no charge on Monday, July 24 at Bloom and Grow Pediatrics. Physicals are by appointment only, so please call (575) 682-2002 to reserve your spot. See our sports physicals flyer for more information.
July Football Camp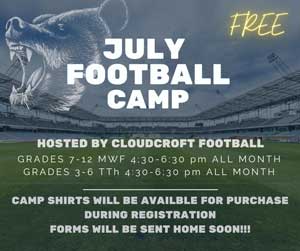 Mark your calendars for our free July football camp, hosted by Cloudcroft Football.
Grades 7–12: Monday, Wednesday & Friday from 4:30 to 6:30 p.m. all month
Grades 3–6: Tuesday & Thursday from 4:30 to 6:30 p.m. all month
Camp shirts will be available for purchase during registration.
PowerSchool Parent Portal