News, events, and Information
Welcome, parents! Here you will find important information about the services we provide at our schools. We aim to help you stay connected to your child's educational experience at Cloudcroft schools.
If you would like to speak with your child's teacher(s), please call the appropriate school office to make an appointment.
Homecoming 2023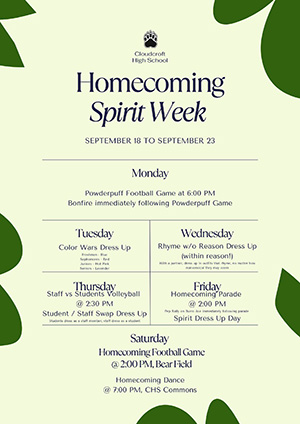 Homecoming 2023 is September 18 through September 23. Join us in celebration by participating in Spirit Week!
Monday: Powderpuff Football Game at 6:00 p.m. Bonfire immediately following.
Tuesday: Color Wars Dress Up
Wednesday: Rhyme w/o Reason Dress up (within reason!)
Thursday: Staff vs. Students Volleyball/Student-Staff Swap Dress Up
Friday: Homecoming Parade at 2:00 p.m./Spirit Dress Up Day
Saturday: Homecoming Football Game at 2:00 p.m./Homecoming Dance at 7:00 p.m.
View all News Articles
PowerSchool Parent Portal