A MEssage
from Our Superintendent
Welcome Back, Students and Staff!
I hope everyone had a very relaxing and fun summer and is ready for the 2022–2023 school year. I know all our staff has already been working hard to get ready for our students' return. I encourage you to visit our website and visit the "Staff Page" under "About Us" to see who our new staff members are, as well as the new positions/titles that may have changed. We are very excited about these new additions and changes. A few new hires to our Bear family that occurred last month are Kelsy Trela as Education Assistant and Roxanne Hanley to our cafeteria staff. We are sad to say that Mrs. Josephine Booky has decided to retire after twenty-plus years with us! We wish you lots of happy times and fun. Please know that we will all miss you!
Back to School BBQ – Friday, August 12!
Come out and meet your Bear teachers and staff, and get any school/educational information you may need! Enjoy the back-to-school barbecue on Friday, August 12 at the Bear football complex. There will be live music by Tanner Huston, games, jumping balloons, and family fun! Hamburger and hot dog baskets are free of charge to students and their families. The gates open at 5:30 p.m., and the music is from 6:00 to 8:00 p.m. There will also be a raffle with a drawing every half hour! So, come out for some family fun, and meet your Bear teachers and staff!
Some other dates to mark on your calendars are the Back-to-School Orientations/Open Houses. These events will provide valuable information on what to expect for your student's upcoming school year. These dates are:
August 8: Kinder night at 5:30 p.m. at the elementary school
August 9: Freshman orientation at 5:30 p.m. in the high school commons
August 9: Sixth grade night at 5:30 p.m. in the middle school commons
August 10: First day of school
August 10: Sophomores through seniors orientation at 5:30 p.m. in the high school commons
We hope to see you at these very informative meetings. For any questions or concerns, please contact us at (575) 601-4416.
A few exciting occurrences over the summer: Cloudcroft Schools' TSA (Technology Student Association) team sponsored by Mrs. Newton competed at Nationals and did very well. This was the first year we have had a TSA team, and we are super excited they were able to compete at this level. Great job Mat Lammey, Wesley Wolfe, Bodhi West, Malia Lammey, Jameer Cooks, Sophia Newton, John Lynch, and Jonathan Allison-Jarabek. We are proud of you!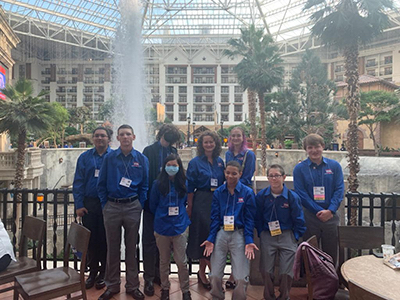 The Summer Youth Program also concluded last month. What a successful program that we have been able to continue. I want to give a big shout-out to the coordinator/instructor, Jessica Ham, and her staff for another fun and successful summer!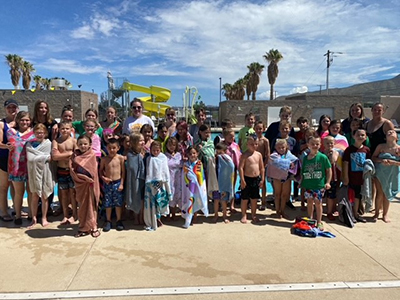 Also, another success is our summer sports program. Thank you to the student-athletes, parents, and coaches who made it happen. We had teams going to tournaments and games and working out in the weight room all summer. We are looking forward to watching our student-athletes compete this year!
Another "Mark your calendars!"
Students cannot participate in sports unless they have a current physical. Bloom and Grow Pediatrics in Cloudcroft is offering free physicals by appointment only on Monday, August 8. You can find physical forms on our website under the "Athletics" tab on the left side, or stop by the admin office during the week and pick one up. Thank you Bloom and Grow Pediatrics for supporting our Bears!
Last month, in my article, I mentioned some of the very generous donations we received. Well, I am happy to report we have received more. Thank you to the following for your support of our students and programs:
OCEC Round Up Donations: CMS Volleyball and Basketball Programs - $5,000.00
Paul & Virginia Darnold: Volleyball - $300.00
Dorothy Cates: Volleyball Camp - $600.00
Jimmy Brown: Volleyball Camp - $20.00
Carl & Cheryl Wyatt: CHS Athletics - $200.00
I would like to encourage all of you to please visit our website frequently throughout the school year to look at the "Upcoming Events" on the homepage. We do our best to keep this calendar updated with all the exciting events we have going on.
Thank you all for your support, and we will see you on August 10!
Go Bears!
Sincerely,
Tana Daugherty
Tana Daugherty
Superintendent
Cloudcroft Municipal Schools