A MEssage
from Our Superintendent
Summertime is here, and I hope everyone is able to relax and enjoy some quality family time! We are busy planning and preparing for our 2022–2023 school year. We will be ready and in full swing on August 10 to see all of our students smiling faces on the first day back. Until then, we have some exciting news to announce.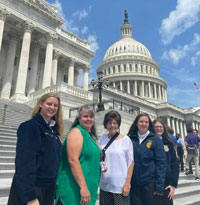 We had three students attend the FFA Washington, D.C. leadership conference. It was an amazing experience for all three of these young ladies as well as their sponsor, Mrs. Watson. They toured the inspiring D.C. with 320 other FFA members from across the United States and came home with amazing memories. They even had the opportunity to meet up with United States representative for New Mexico's 2nd congressional district, Yvette Herrell, while there. Our FFA leaders who were fortunate to attend were Bryanna Bradshaw, Ava Blankenship, and Carly Kimble.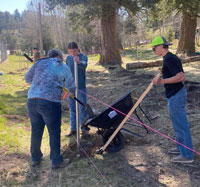 Another exciting accomplishment was our senior class of 2022 community project. In May, the senior class helped build the new dog park and stencil picnic tables. The dog park was a much-needed facility, and our seniors were able to be part of it. The ribbon cutting ceremony for the new dog park was recently took place, and it was great to see such a school and community effort.
Our athletes and coaches are getting ready for the 2022–2023 sports seasons. The girls and boys basketball teams have been attending camps and practicing for the month of June. Volleyball, football, and cross country will start practicing in July. See our Home page for the specific schedules.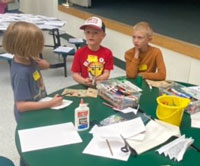 The summer youth program has been in full swing. We have over 40 students attending. Instructor Jessica Ham has the students participating in all kinds of fun learning activities. The summer youth program has been a staple in Cloudcroft for many, many years, and we now have children of former attendees participating in it.
A big congratulations to our school board for being one of the top ten school boards in New Mexico to receive the 2021–2022 region meeting attendance award. They excelled in attendance and training at the region school board meetings.
Speaking of school board meetings, at the June meeting we were able to approve and accept a number of generous donations to a variety of our programs. The donations included:
Donation to volleyball: Gilbert and Patti Troell - $500.00
Donations of art supplies/cash: In memory of Shannon Porch
Donation to CMS TSA: Otero Co. Electric Coop - $2,500.00
Donation to CMS FFA: David Bradshaw - $584.00
Donation to CMS culinary: Allen and Carol Henry - $100.00
Donation to track: Anonymous - $100.00
I would like to extend a huge thank you to all that donated. Our students and staff appreciate the support you have shown to Cloudcroft Municipal Schools.
I would like to welcome our new employees and some previous ones who will now be seen in different places. Vanessa Hughes, who has been an educational assistant at the high school, will be our new high school secretary. A transition that occurred during the past school year is that Lisa Royer became our new business manager. I would like to welcome each to their new positions. Our new hires include Chase Shelton as the 7th–12th grade history teacher, head cross country coach, and middle school basketball coach. Another new hire is Debbie Alexander as one of our second grade teachers and lastly, we welcome Madison Lund as the new elementary educational assistant. I want to welcome Chase, Debbie, and Madison to our Bear family!
Kindergarten through 12th grade registration takes place in the month of July. These dates are July 27 and July 28 from 8:00 a.m. to 3:00 p.m. at the school your student will be attending. Please take this opportunity to get your student registered, pick up a supply list, and meet some of the staff. Please contact the appropriate school at (575) 601-4416 if you have any questions or concerns.
I would like to wish everyone a festive 4th of July, and I will see you next month as we welcome our students back!
Go, Bears!
Sincerely,
Tana Daugherty
Tana Daugherty
Superintendent
Cloudcroft Municipal Schools